This year is the 800th anniversary of the death of St Robert.  We are celebrating his life all throughout FEVA.  See the programme for more information and please do visit the St Robert website for much more information and a handy leaflet.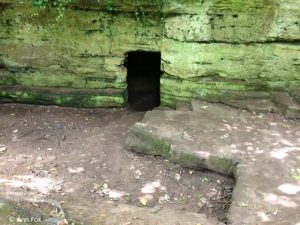 Who is St Robert?
Robert is considered as one of the outstanding saints of the early thirteenth century.  He was born in 1160 and became a sub-deacon and a novice at the Cistercian abbey of Newminster. Seeking a life of solitude, he visited a hermit who lived by the river Nidd at Knaresborough. He lived there for some years, until a wealthy widow, Juliana, offered him a cell at St. Hilda's Chapel in Rudfarlington. There he developed a reputation as a wise and holy man who cared for the poor. He lived, for a time under the church wall at Spofforth and then he tried living with the monks near Tadcaster.  He returned to Rudfarlington and prospered, having four servants and keeping cattle. But he was soon in trouble again this time with William de Stuteville, the constable of Knaresborough castle who accused him of harbouring thieves and outlaws. Robert returned to the cave at Knaresborough, where he stayed for the rest of his life. Although living as a recluse, his piety soon attracted followers and gifts from local benefactors which included land alongside the river.
Robert died on 24 September 1218.  Before his death St Robert established an order of Trinitarian Friars at Knaresborough Priory, but he warned them that when his time came the monks of Fountains Abbey would try to carry his body away.  He urged his followers to resist them and so St Robert was buried in his chapel cut from the steep rocky crags by the river, where it was said that a medicinal oil flowed and pilgrims came from near and far to be healed by this.  Today the cave, carved into a limestone cliff, can still be visited by the public. A small chapel and evidence of a small living area are all that remain.  Churches are dedicated to St. Robert at Knaresborough in North Yorkshire, and at Pannal, Harrogate.
The Saint Appointments
Go for your own short pilgrimage to St Robert's Cave.  A gentle walk along Abbey Road listening to one of four stories about St Robert will help you enter into the spirit of the time, 800 years ago, when he was alive.
The audio experience can be purchased and downloaded from the St Robert website and the walk starts from Castlegate Books in the Market Place where you can also hire the audio guide.
St Robert Art Trail
Stop 1: Knaresborough's newest Town Window will be unveiled at 11:30am on Saturday 11th August in the Market Place.  If you stand with your back to the Market Cross and look towards the library, St Robert will be there with outstretched hands.
Stop 2: If you proceed towards Gracious Street and on to Holy Trinity Church you'll find a portrait of St Robert, on loan for a limited time from the Mercer Gallery.  If you look behind the alter on the east wall you'll see another picture of Robert along with the other northern saints, Columba of Iona and Wilfrid of Ripon.  If you look carefully you should spot the deliberate mistake.
Stop 3:  Take a walk down Abbey Road where a new wood carving of St Robert nestles in the shrubbery in a welcoming pose.
Stop 4:  In the comfort of your own home you can visit the St Robert's website image gallery where you can see pictures of other art work from St Robert's Church in Harrogate and the stained glass windows from St Matthew's Church at Morley in Derbyshire.
The Story of St Robert
Hear Peter Lacey, author of 'Tales of a Celebrity Hermit', talking about the life of St Robert, one of the most important but lesser known characters associated with Knaresborough and watch the Knaresborough Mummers irreverent new play 'Eugene Aram and the Hermit' featuring an encounter between Knaresborough's most notorious villain and the local saint.  Riotous history as it never happened.